Professional and Practical 2 Drawers Tool Trolley
One small drawers
One big drawers
1.0mm thickness of metal drawers
Tool storage and cabinet combination.
It can be put any hardward tool spares, fasteners. and any tool trayers as below.
Pls choose the items tray which you will be interest, then we can make offer on the base of it.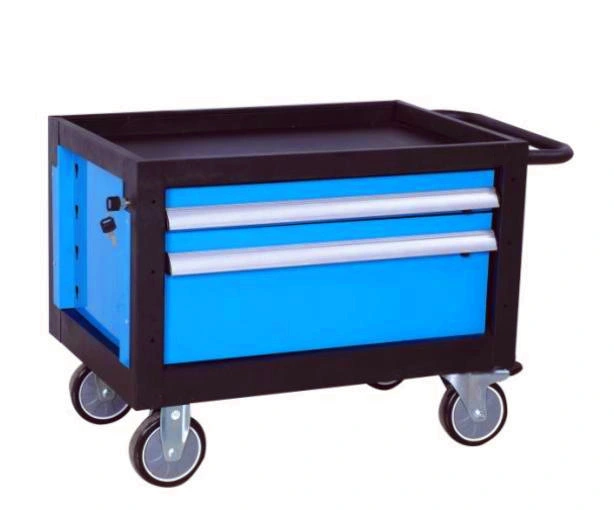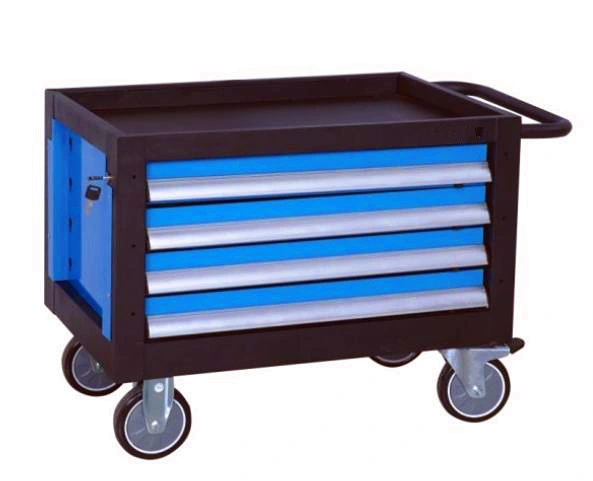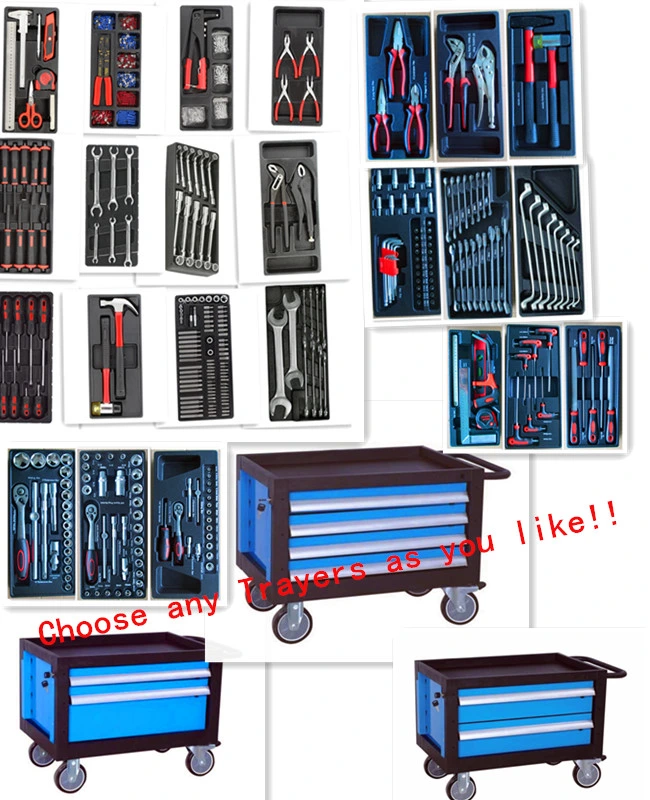 PC
Description
Size
13
1/4"DR. SOCKET
4-4.5-5-5.5-6-7-8-9-10-11-12-13-14MM
1
1/4"DR.UNIVERSAL JOINT
40MM(L)
1
1/4"DR. SLIDING BAR
115MM(L)
2
1/4"DR. EXTENSION BAR
50-100MM
1
1/4" RATCHET HANDLE
1
SPINNER HANDLE
1/4"
17
3/8"DR. SOCKET
6-7-8-9-10-11-12-13-14-15-16-17-18-19-20-21-22mm
1
3/8"DR.UNIVERSAL JOINT
1
3/8"DR. SLIDING T BAR
2
3/8"DR. EXTENSION BAR
75-150MM
2
3/8"DR PLUG SOCKETS
16,21mm
7
3/8'' DR. TX SOCKETS
E10-11-12-14-16-18-20
1
3/8" RATCHET HANDLE
72 teeth
17
1/2"DR. SOCKET
10-11-12-13-14-15-16-17-18-19-21-22-23-24-27-30-32MM
1
1/2"DR.UNIVERSAL JOINT
76MM(L)
1
1/2"DR. SLIDING BAR
10"
2
1/2"DR. EXTENSION BAR
125&250MM
1
1/2" RATCHET HANDLE
17
COMBINATION WRENCH
6-7-8-9-10-11-12-13-14-15-16-17-18-19-20-21-22MM
8
DOUBLE RING WRENCH
6-7MM 8-9MM
10-11MM 12-13MM
14-15MM 16-17MM
18-19MM 20-22MM
9
1/4''DR, DEEP SOCKET
5-6-7-8-9-10-11-12-13MM
9
BALL HEX KEY WRENCHES
1.5-2-2.5-3-4-5-6-8-10MM
23
1/4''DR,INSERT SOCKET BITS
T8-10-15-20-25-27-30-40,PH1-2-3,PZ1-2-3,SL4-5.5-7,H3-4-5-6-7-8MM
1
MACHANICAL HAMMER
500G
1
MALLET
40MM
23
FASTENERS
23PCS
1
LONG NOSE PLIER
8"
1
DIAGONAL CUTTING PLIER
7.5"
1
COMBINATION PLIER
8"
1
GROOVE JOINT PLIER
10"
1
LOCK GRIP PLIER
10"
6
ELECTRICAL SCREWDRIVER
3x75-4x100 -5.5x125 - 6.5x150 -PH 1x100-PH 2x100( din 7437 )
7
PRECISION SCREWDRIVER
Torx 5 - 6 -7 - 8 - 9 - 10 - 15
7
PUCKER HEX KEY WRENCH
2-2.5-3-4-5-6-8MM
7
SCREWDRIVER
PH2*38MM PH0*75MM PH1*100MM
PH2*100MM PH2*125MM PH3*150 PH4*200
7
SCREWDRIVER
SL6*38MM SL3*75MM
SL3.5*75MM SL4*100MM
SL5.5*150MM SL6.5*150MM
SL8*175MM
1
L-SQUARE
2M
1
FOLD RULER
25*14CM
1
LEVEL
9"
1
HACK SAW
6"
1
MEASURING TAPE
3M
5
FILE
6
T-HEX KEY WRENCH
H2*100MM-2.5*100MM-3*100MM-4*150MM-5*150MM-6*150MM