Aluminum alloy folding stretcher
Model No. EDJ-003 C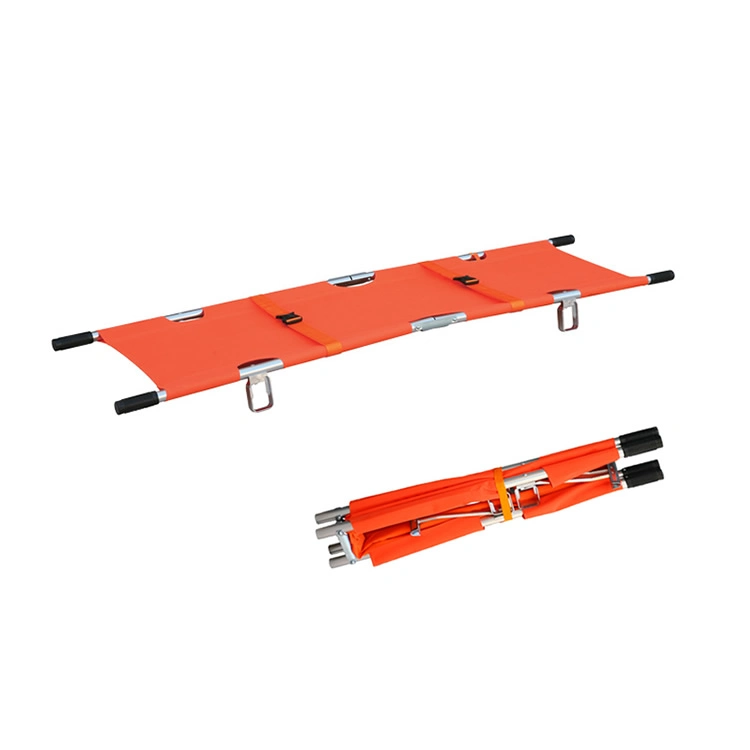 * Product description:
This aluminum alloy rescue stretcher is made of high-strength aluminum alloy and Oxford fabric, which is humanized in design; The stretcher has the characteristics of light weight, small size, convenient carrying and safe use, which greatly improves the rescue efficiency.
* Usage:
Open the stretcher surface and fasten the safety belt at the same time.
* Scope of application:
This product can be used for transporting sick and wounded in hospitals, sports venues, public places, commercial buildings, ambulances and military battlefields.
* Maintenance:
Always keep clean (including disinfection);
Always check whether there are loose parts.
* Storage and transportation:
Store in moisture-proof and non-corrosive environment;
Can be transported by general means of transport;
Do not invert during storage and transportation, and stack them as shown in the packing box.
Product Description
| | |
| --- | --- |
| Model | EDJ-003C |
| Product size | 208*55*15cm |
| Foldaway sizw | 104*17*9cm |
| Packing size | 108*19*18cm |
| Load limit | 159kg |
| N.W. | 10.5 kg |
| G.W. | 12.0 kg |
| Frame material | High Strength Aluminum Alloy |
| Fabric material | Oxford Fabric |
Company Information
Shanghai EMSS Med. & Tech. Co., Ltd is a comprehensive enterprise in pre-hospital service of first aid, from design and production to sales and post-sale service.
Our company is commited to seizing each opportunity to become a quality supplier and most reliable partner of pre-hospital service and products of first aid in the international market and the domestic sales dealers.