Techray Brand Medical Surgical Mask Supplier For Medical Use in Hospital
Description:
The Techray Mask type IIR surgical masks are composed of 3 layers of ultra-soft, splash-resistant polypropylene (PP) nonwoven fabric (TNT). This type of masks complies with the highest performance requirements (BFE >99,00%) for surgical masks (Type IIR) and can be used in a medical environment. All used materials are irritant free and odorless. Elastic ear loops hold the mask securely and comfortable to the face and allow for an easy removal. Adapting the integrated nose bar to the nose silhouette seals off the upper face and eye area. Our masks are designed, manufactured and certified in Europe, with European materials.

Product type - Surgical Face Mask -
Type IIR Brand - Techray Mask
Color - White Size -
Adult (175mm x 95mm) Applicable
norm - EN-14683:2019+AC:2019 for face masks
Medical device - Class I medical device according to EU Regulation 2017/745
PPE - No Laboratory test - Tested by Aitex (#2020TM4387)
according to EU standard EN-14683:2019+AC:2019
BFE - 99,01% ± 0,50% Microbial cleanliness - 10 ufc/g
Splash resistant - Yes
Breathability - 57,6 Pa/cm2 ± 1 PA/cm2
Manufactured in - EU (Spain)

Why Chose Us:
In terms of epidemic prevention materials, Techray focus on surgical mask E N 1 4 6 8 3 type IIR and disposable medical mask.
Techray Medical Silk Mask:
1,Luster - Long storage time of Static electricity
Long storage of static High performance of filtration

2,Softy - Skin-friendly and comfortable
Perfect Mechanical properties High performance softness

3,Uniformity - High Filter capacity
Bacteria Resistance B F E ≥ 9 9 %

4,Breathability - Breath Smoothly
Ventilate resistance < 33Pa Perfect performance of air permeability
Parameter:
| | | | | |
| --- | --- | --- | --- | --- |
| | Product Name | | Medical Surgical Mask | |
| | production Capacity | | 100000pcs | |
| | Dimension | | 17.5*9.5cm | |
| | Size | | 500*400*450mm | |
| | Certificate | | CE ISO | |
| | Brand | | Techray | |
| | Material | | Non-Woven Fabrics | |
Photo Show: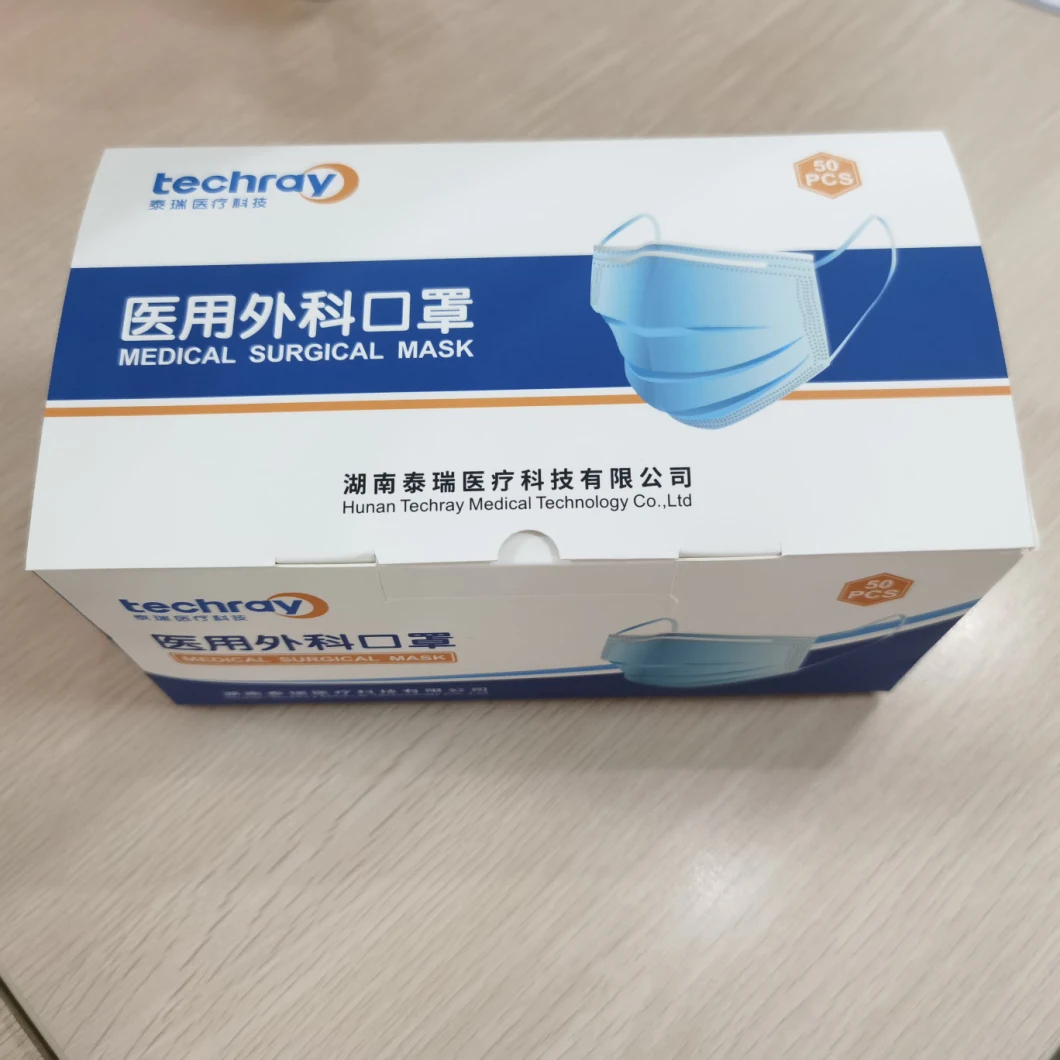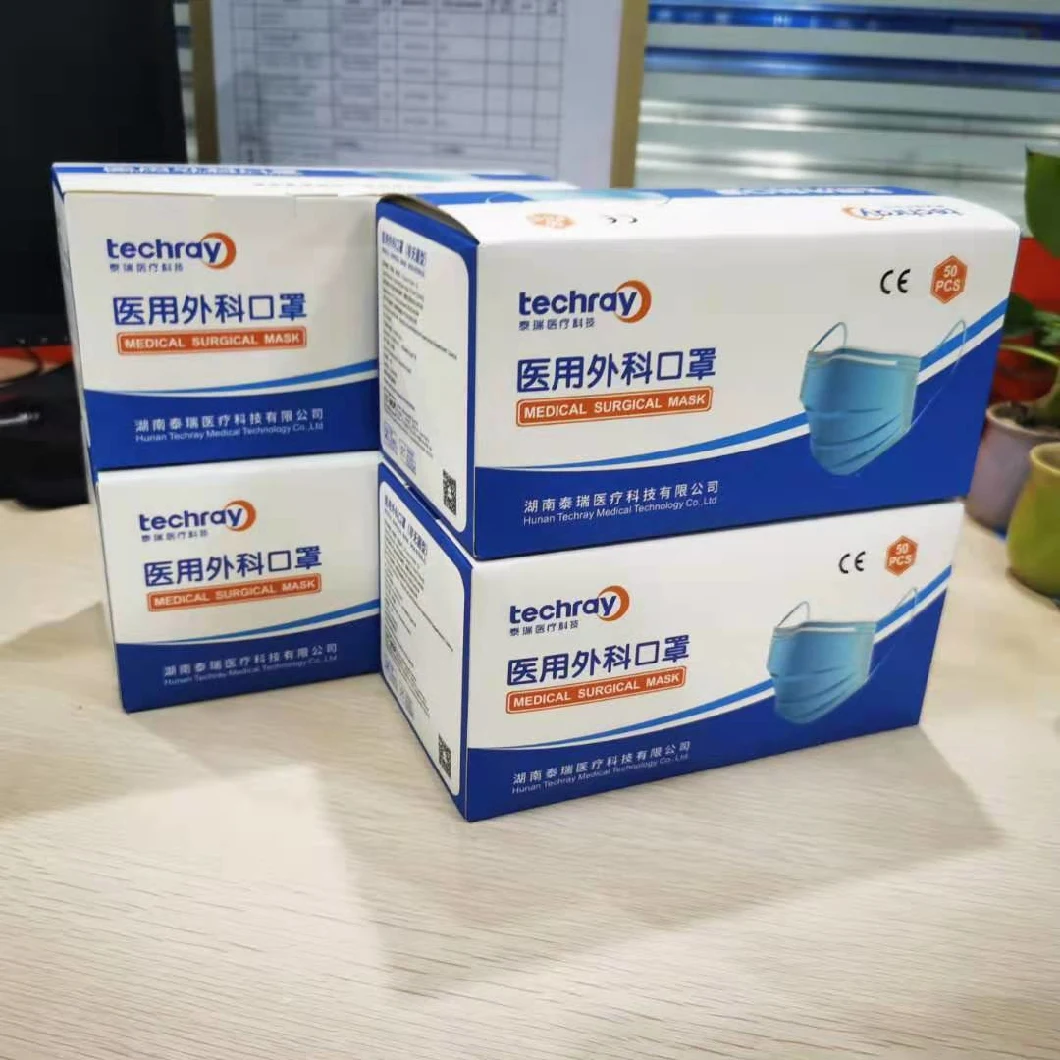 We got Test Report issued from TUV and SGS Organization. Which shows we have passed the examination.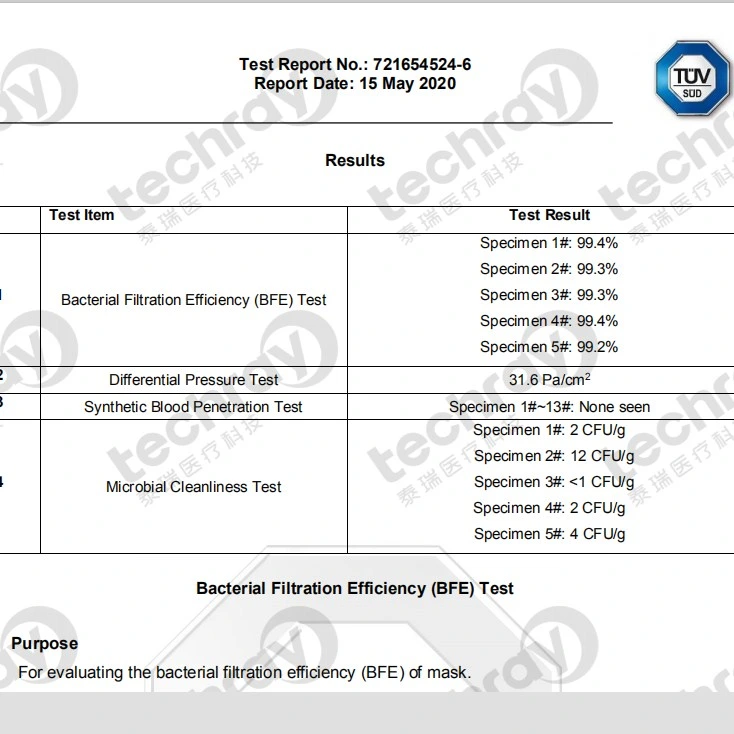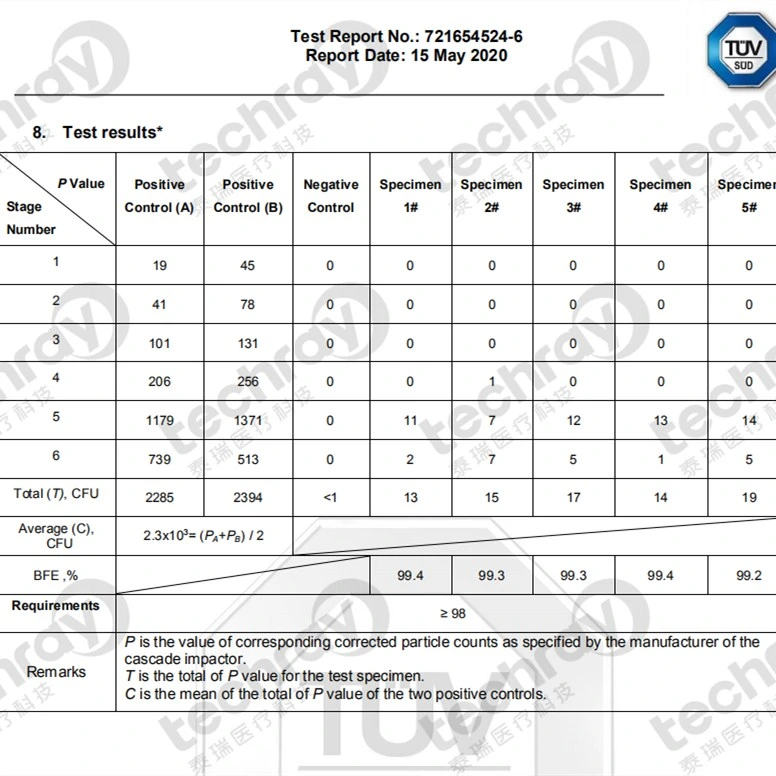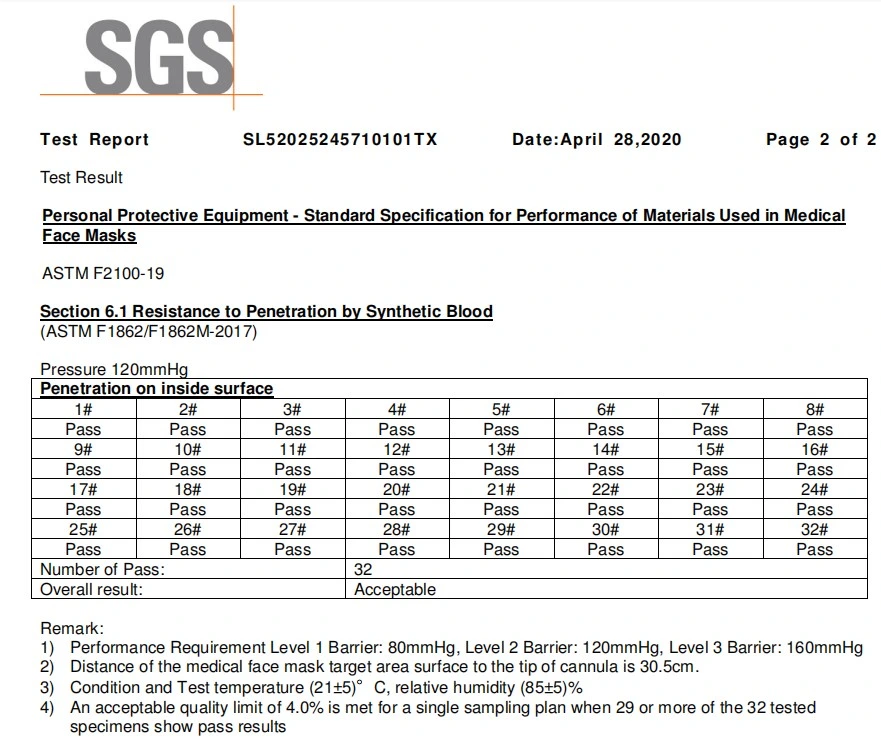 Q&A:
1. Are you a manufacturer or a trading company? when was your company established?
Yes, we are directly manufacturer, our factory was established in 2007.
2. What is the annual turnover for your company?
In the passed years, it was around USD18 million, it is still in the growing.
3. What is the number of employees at your company?
Our factory is about 380-400 skilled workers, 10 professional QC for quality checking during each process and 10 professional int'l sales with 3-8 years experience in int'l trade department.
4. What is the percentage of your products distribution for local, and export?
At present, 90% for export,10% for local.
5. Which are the main countries you export to?
Germany, Switzerland, Austria, USA, Saudi Arabia, Chile, Mexico, Peru, Brazil, Korea, Japan ,Thailand
6. Could you provide us an overview of the products that you specifically manufacture from
Our own factory mainly produce all kinds of disposable face masks,caps, coveralls, surgical gowns, lab coats, bed sheets, arm sleeves, shoe covers, surgical drapes, rain ponchos ,aprons and so on.
7. How many production lines are there for your major range of the products?
2 production lines for PP ,SMS, PP/PE material. 2 dust free workshops for surgical sterile products 5 automatic caps machines and 5 automatic shoe cove machines. 10 automatic face mask machines.
8. What is your output capacity for your major range of the product?
Face mask capacity: 1000,000 pieces / day. Coverall, Surgical gowns, lab coat, bed sheet capacity: 10,000 pieces/day. Caps capacity: 200,000 pieces/day. 1*40HQ can be finished within 7-10days.
9. Do your company have any quality management system such as ISO, EN or CE certificate (s)?
Yes, we have CE, ISO13485, FDA, REACH, SGS and NELSON report.
10. Can I get the free samples for quality checking? How long time can I get it?
Yes, our samples can be supplied free within 3-7 days.
11. Can we print our logo in the products or packing?
Yes, all products can be custom-made and all package can be printed as your artwork.
12. What is your products expiration date?
Around 3-5 years.
13. What is your normal payment terms?
For first order, 30% T/T in advance,70% will be paid before loading or L/C. We can discuss it further after some times cooperation.
14. what is your MOQ of each products?
Face mask/caps/shoe covers/arm sleeves each MOQ: 50,000pcs. Clothes and sheets MOQ:5000 pcs.
15. How do you solve quality issues if any?
Our factory will pay the highest attention to any quality issues. We will deeply investigate the root cause of the problems and find the best solution to avoid any future problems. Meanwhile we will corresponding compensation for our customers.

Who We Are:
Techray Medical Technology is a manufacturer which have been specializing Medical Equipment Oxygen Generator System more than 13 years.
In February 2020, the company quickly switched to production on the basis of original conditions, built standard 100,000 level Clean workshop, established 110 medical mask production lines. Techray committed to producing the highest quality mask for global epidemic area. Currently, Techary have exported medical mask to the Canada, UK, France, Sweden, Denmark ...

Techray has a strong innovative team of technical experts and advanced equipments,covering an area of 6,000 square meters, with a daily volume of 5.9 million, and obtained the "white list" of NMPA and "Export white list" in MOFCOM. Techray has all the export qualifications and quality certificate, I S O 1 3 4 8 5 certification, T U V and SGS report, I S O 1 0 9 9 3.