Hospital Medical ambulance Stretcher Emergency Trolley cart Patient Transfer Stretcher
It is composed of inside and outside trolley and stretcher three parts. The inside and outside are docked with the Aluminium alloy track, and the stretcher part can slide on the track.
Material:

Epoxy coated steel frame

Feature:

Detachable ABS stretcher with four casters

Gardrails:

ABS damping lifting guardrail with angle display.

Bed surface:

ABS bed surface,

L1950mm x W650mm

Brake system:

Side brake central control casters,

Cranks:

Stainless steel fold cranks

Back lifting angle:

0-75°

Height of the bed surface:

Low 660mm to High 950mm

Max load weight:

200kg

Equiped:

Telescopic IV pole
5cm fire retardant and waterproof material covered
Two patient safety straps
Oxygen tank holder
Drainage bag holder

HS Code:

940290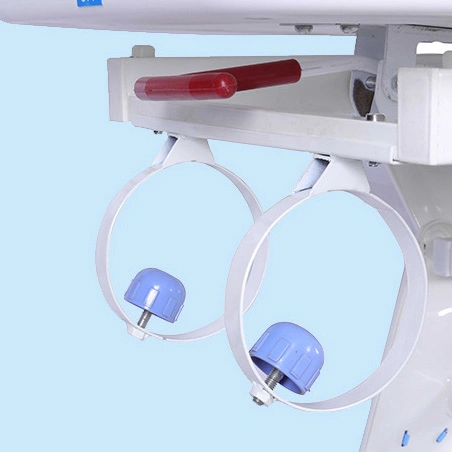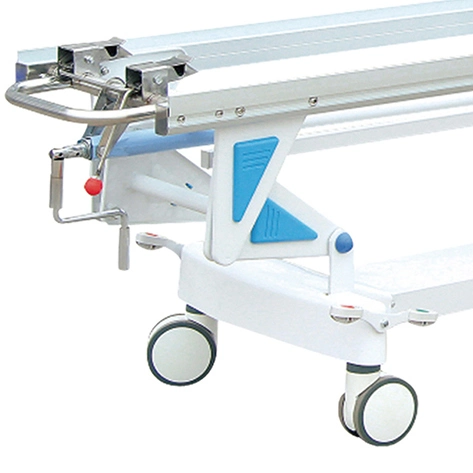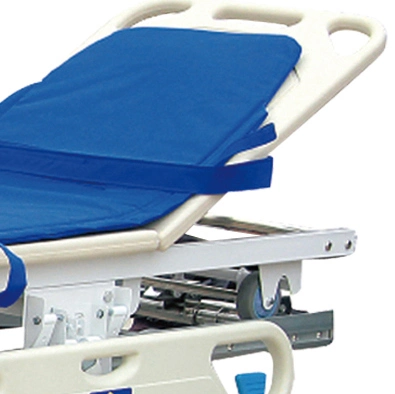 We are a professional manufacturer and designer of hospital beds and relate medical products. "Forward Health" is our LOGO, we hope that our products can provide nursing functions for patients, let them restore health asap, and make nursing work easier.

Our company from the beginning to now, We insist to supply first-class products, first-class quality, and first-class service, we think this is the solid foundation for long-term cooperation.

Our factory locate in Hengshui City, Hebei Province of China. Hebei is Steel production area, so we have cost advantage. And Hebei is a populous province, so labor costs are much lower than those in the south of China. We are near Tianjian port, the transport cost is lower. These reasons support us to provide customers with more favorable prices

Since 2018, we cooperate with the Korean factory. Every year, we conduct some technical exchanges and guidance to further improve the technical process and product quality. Our reliable product quality assurance will help you to expand your market fast.

We have professional R&D team, they continuously introduces new styles, which are the most attractive to customers every time in the exhibition. Moreover, our R&D team give professional suggestion and improvement solution in the customized products, the customers benefit from these solution and avoids market risks, so they have established a long-term cooperation with us. We also can match the design according to your target price or need, which is more conducive to you to develop your market.


We have the CE certificate and passed ISO13485 quality management system certification. ISO13485 is very persuasive in medical goods production field. This certificate is a passport to enter the international market. And these certificates are recognition of our quality. We also provide corresponding certificates and embassy certifications according to different market requirements, to make you more competitive in the market.
1

Factory Video inspection

2

Goods Video inspection

3

After-sales warranty:

--One year warranty

--Five-year maintenance

--Ten years of spare parts supply

4

Design brochure for customers

5

Provide installation video

6

Provide operation video

7

Installation Manual

8

Design label and paste on the packages

9

Accept customized orders
OEM/ODM Basic Introductions

Accessories Change

Accept accessories change according to your need, please contact us for different accessories.

Size Change

Hospital beds length can be changed easily according to your need. Because ABS headboard and footboard width is hard to change, so hospital beds width is hard to change. If choose wooden type headboard and footboard, change hospital beds width is easy to realize.

Logo

Your logo can be put onto both packaging carton box and hospital beds. Please contact us for references cases.

Bed Color Change

Bed body color can be changed according to your need. But MOQ is needed.

Packaging Box

We use 5-layer and 7-layer cartons to pack hospital beds. It is strong enough for common products. Special requirements, please contact us.
Q: Where is your factory located? How can I visit you?
A:
Our factory is located in medical devices production zone, Jizhou District, Hengshui City which is near the capital Beijing. You can fly to Beijing Capital International airport. Then take 1 hour high speed train to our city.
Q: What are your own-produce products?
A: We produce hospital beds, home nursing beds
, wheelchair and all accessories etc hospital furniture
. We can
supply
very reasonable prices and high quality related products
to
you.
Q: What are your payment terms?
A: T/T and L/C are the most common use payment terms. We also have rich experiences in D/P, DA and other payment terms. We will do what we can do to provide advantages.
Q: Do you accept OEM or ODM orders?
A: OEM and ODM orders is highly welcomed. Please contact our sales for our OEM and ODM cases for your kindly information.
Q: What is your QA/QC policy?
A: We have complete QA/QC regulations and strictly obey the regulations during the all production procedures. Please ask for the regulations and cases from our sales directly.
Q: What's your warranty policy?
A: We provide 1 year warranty for our products. Send us pictures or videos to the sales,
we will reply within 24 hours and give solutions within 48 hours.