Hospital Medical Furniture Equipment Clinic Patient ABS Cart Anesthesia Trolleys for sale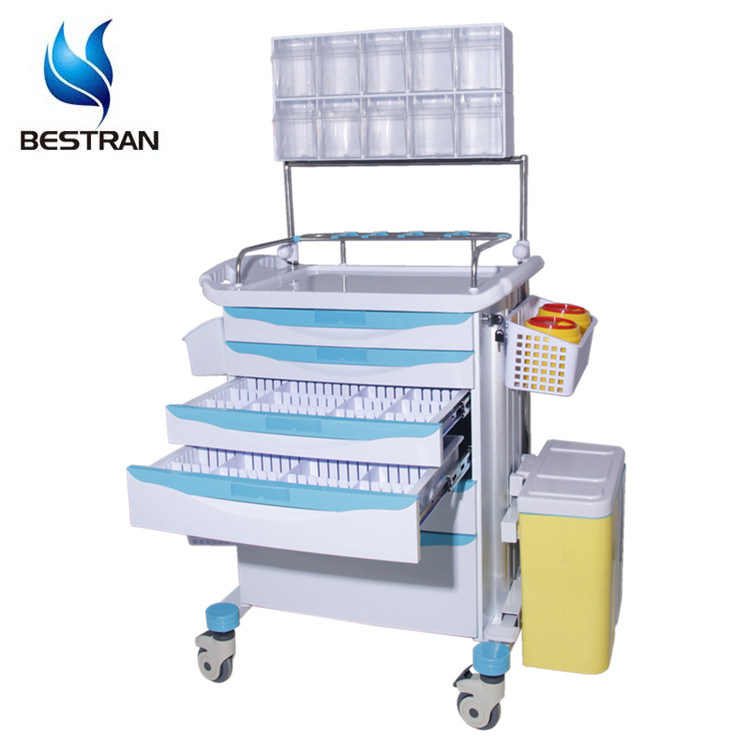 Specification:
Size:780*475*1000mm
1 Main make of Steel , ABS, Aluminum alloy, ABS board on the top, easy clean. Aluminum Alloy double columns, the body frame made of cold rolled steel.
2 Top: double flyer ABS moulding design with side rails in both side, swallow shap and sunk design trolley top which can prevent the stuff falling, 304 stainless steel handrails, covered with transparent soft glasses.
3. Front: 3 small drawers, height: 80mm, inside space: 508*358*67mm. 2 medium drawer: height: 120mm, inside space: 508*358*108mm, 1 big drawer height: 240mm, inside space: 508*358*223mm. Inside of drawers, there are 3*3 dividers, 3 folded noiseless rails.
4.Left: stuff box with dividers. Basket, defibrillator platform with belt.
5.Right: net basket, sharp box, mega big dustbins in 2 colors.
6. Back:Detachable double rowed 10 Anesthesia bins
7. Beneath: 4 corners with bumpers. With 4 luxury noiseless castors, 2 with brakes, 4 high density PVC castors that can prevent the hair involving, very flexible.