Medical ICU Department Trolley Anesthesia Machine for Hospital Clinical
Trust point:
Patient Centered Ventilation: Precision in an anesthesia ventilator, from conventional ventilation to advanced modes and adapt to wide range patient.
Safety design: Vaporizer with temperature, pressure, flow compensation and self-lock function. Real time pressure-time, flow-time loop oscillogram and high precision ETC02, 02 concentration detection function included.
Alarm: Three level alarm system, visual and sound alarm information
Power: Built-in battery ensure 2-3 hours using when power failure
Separate design of electric circuit and gas circuit ensure long using life
Flexible configurations able to customize your requirements
Specification:
Product name
Medical ICU Department Trolley Anesthesia Machine for Hospital Clinical

Ventilation mode

IPPV, A/C, PCV,PSV, SIMV, SIGH, MANUAL

Ventilator parameter range

Flowmeter: O2(0.1~10L/min)




N2O(0.1~10L/min)




AIR(0.1~10L/min)




Rapid oxygen supply: 25L/min~75L/min




Tidal volume(Vt): 0, 20ml~1500ml




Frequence (Freq): 1/min~100/min




I:E: 4:1~1:8




PEEP: 0 cmH2O~30 cmH2O




Pressure triggering sensitivity (PTr):

-20 c

mH2O

~0

cmH2O(Based on PEEP)




Flow trigger sensitivity (FTr): 0.5 L/min ~ 30 L/min




Pressure control (PC): 5

c

mH2O

~

6

0 cmH2O




SIGH: 0(off) 1/100 ~ 5/100




Apnea ventilation: OFF, 5s~60s




Pressure limit: 20

c

mH2O

~

10

0 cmH2O

Monitoring parameter

Frequence (Freq): 0/min~100/min




Tidal volume(Vt): 0mL~2000mL




MV: 0L/min~100L/min




Oxygen concentration: 15%~100%

Oscillogram

P-T (pressure - time)




F-T (flow- time)




V-T (volume - time )




ETC02-T (ETC02 - time)




P-V loop(pressure-volume loop)

Alarm and protection

The AC power failure alarm: Power failure or no connection




Internal battery backup low voltage alarm <

11.3

±0.3 V




No tidal volume: ≤5 ml within 6s




High oxygen concentration alarm: 19% ~ 100%




Low oxygen concentration alarm: 18% ~ 99%




High airway pressure alarm: 20

c

mH2O

~

10

0 cmH2O




Low airway pressure alarm: 0

c

mH2O

~

2

0 cmH2O




High minute volume alarm: Adult (5 L/min -20 L/min)




Low minute volume alarm:

Paed (1

L/

min -15

L/

min, 0-10

L/min)




Continuous pressure alarm: (PEEP+1.5kPa) over 16s




Suffocation warning: 5s-60s no spontaneous ventilation




The maximum limited pressure: <12.5 kPa




Fan error: Show on screen




Oxygen deficit: Show on screen

Working condition

Gas source: O2, N2O, AIR




Pressure: 280kPa~600kPa




Voltage: 100~240V




Power frequency: 50/60Hz

Packing size

Wooden case packing size: L870*890*1510mm




G.W: 195KG




Anesthesia machine size: L930*750*1405mm




N.W.: 124KGS
Anesthesia Machine Detailed Description: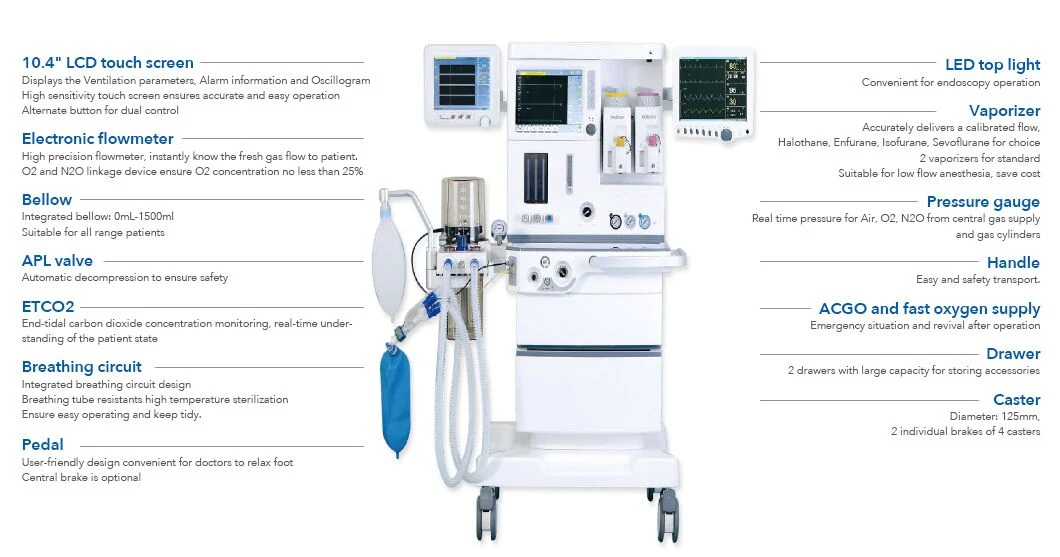 Optional part 1
Anesthetic gas monitor, Vital Signs Monitor:
Real-time monitoring of anesthetic gas and patient's physiological condition
Optional part 2
AGSS: To enhance the safety of the environment in which members of staff in close proximity with waste anesthetic gases and vapors (agents)work