Medical Surgical Trolley Mobile Anesthesia Machine with Vaporizer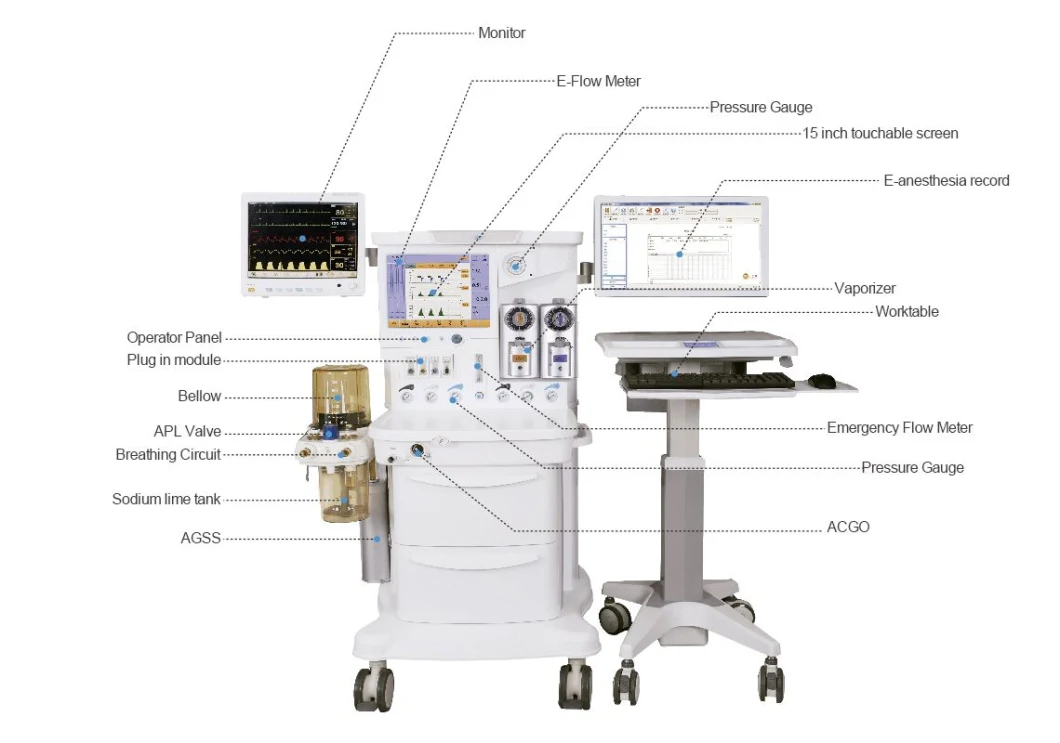 Medical Surgical Trolley Mobile Anesthesia Machine with Vaporizer Description:
High-precision Vaporizer
Can be used for large flow anesthesia(up to
15
L/Min).
Apply automatic compensation function for temperature, pressure and flow.
Apply with Selectatec.
Pouring type/quick-fil.
Isoflurane, Enflurane, Halothane, Sevoflurane.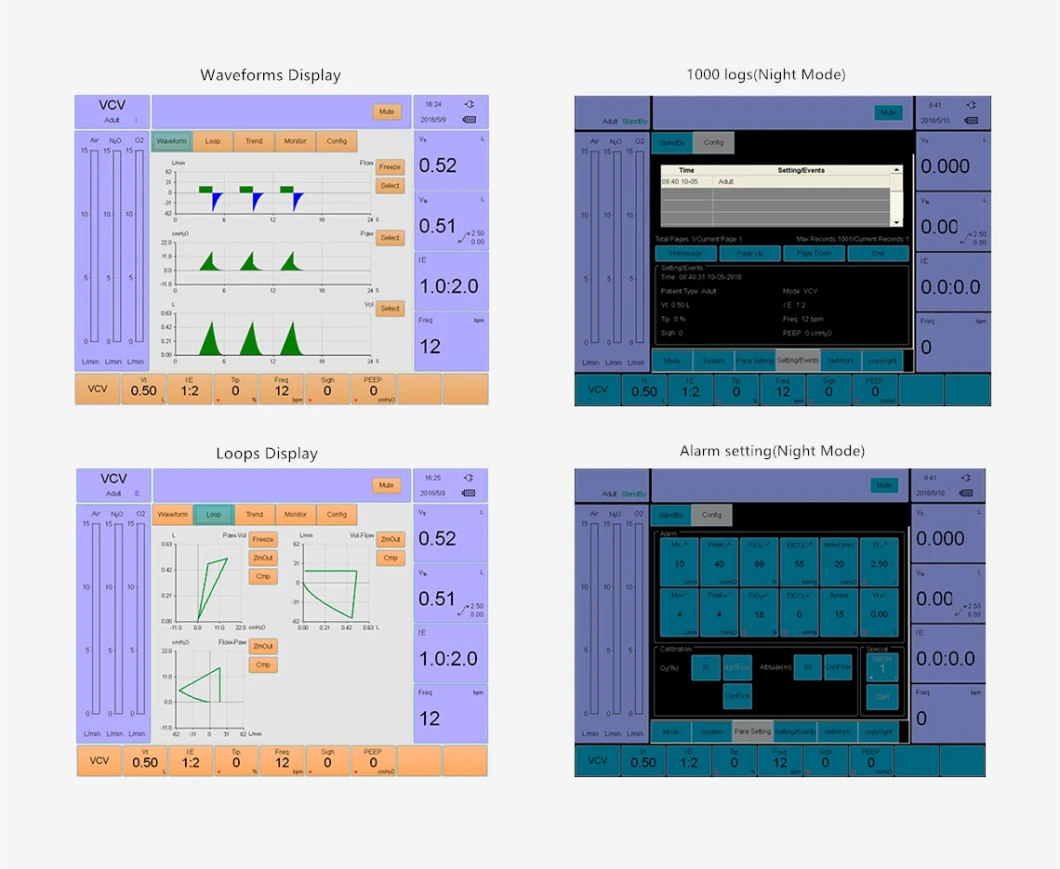 Display
15 inch touch screen with no dead space which give users a clear vision for parameters and waveforms
NEW interface design with user friendly layout and colour assortment.
Day/Night
display mod
e
brings a better visual perception. Night mode suitable for dark
e
nvironm
ent.
Display a full range of ventilation modes including VCV, PCV, SIMV-VC,
SIMV-PC
,
PSV. Also displays pressure, flow rate, volume and CO
2
waveform in same int
e
rfac
e.
Real-time
detection for loops, airway pressure, flow rate, v
olume, compliance and airway resistance.
Electronic flowmeter (mechanical flowmeter also applied for safety issue).
Typical display for Zoom in/out, comparison, freeze.
Show last 24 hrs trends.
Up
to 1000 logs.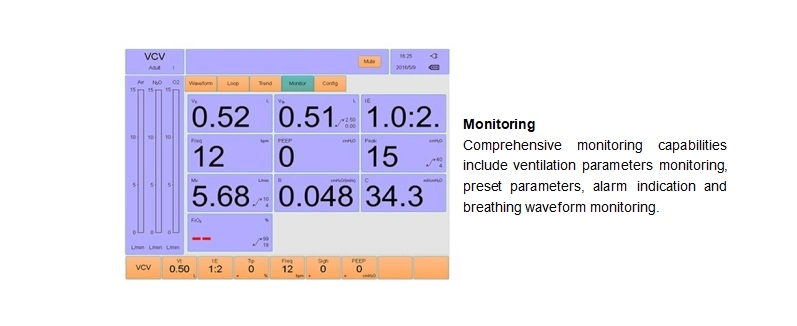 ACGO
International standard design (diameter: 22mm).
Available for patients' oxygen inhalation and postoperative recovery.
Available with T circuit or bain circuit for open operation.
Yoke system
Allow back-up cylinder.
3 gas sources support: O2, N2O, Air.
Normally A-type 11L size in the emergency case.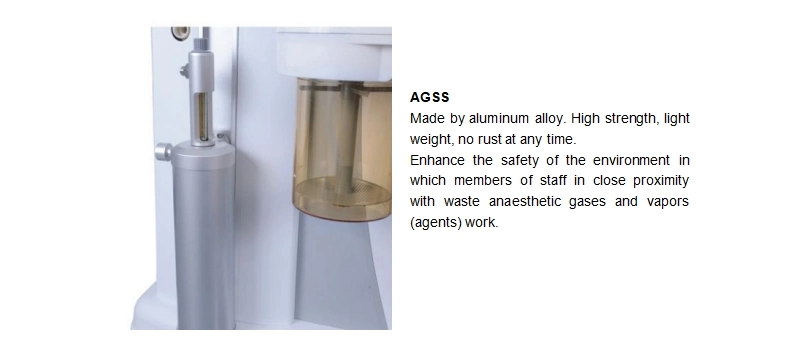 Module plug in design
Plug in design available for monitoring SPO2
, CO2, FiO2 and 5 AA
(anesthetic gases module).
Communication Interface
Used to connect with Hospital network, WLAN, Cloud storage and communicate with other medical equipment.
Also used to upgrade equipment and upgrade port.
Specification:
Technique Specifications

Product name
Medical Surgical Trolley Mobile Anesthesia Machine with Vaporizer

Physical specifications

Dimensions:

70*85*140cm




Weight:

85kg




Casters:

Front whe

els with lock




Screen: LCD




Display:

15 inch

touchable




Display graphics:

Wavefoms of P-T, F-T

,

V-T

,

loops of P-V,

V-F

, F-P

Working Specification

Power:

AC 110V-240V, 50Hz/

60Hz




Bat

t

ery Power

:

Up

to 120 mins

Pipeline supply

Gas configuration: O2, N2O, Air




Pipeline input range:

280-600kPa(40~85p

si)

Applications

Patient range: Adult

/ Pediatric

Ventilator Specification

Modes of ventilation

VCV:

Volume Contro

l Ventilation




PCV: Pressure Control ventilation




PSV: Pressure Support Ventilation




SIMV:

Synchronized In

termittent Mandatory Ventilation




SIMV-VC:

Synchronized Intermittent Mandatory V

e

ntila

t

ion-Volum

e Control




SIMV-PC(Optio

nal)

:

Synchronized I

n

termitt

ent Mandatory Ventilation-Pressure Control




PRVC(Optional)




Pressure-regulated Volume Control




MANUAL: Manual




STAND-BY: STAND-BY

Ventilator parameter

Working type: Electronically controlled, pneumatic driven




Tidal Volume range: 10-1500ml




Pressure range: 5-60 mbar




Re

sp

ir

ation Rate Range

: 1-99bpm (1-40bpm under SIMV)




I:E Range

: 4:1-1:8




Ptrigger Range: -20-0cmH2O




Minute volume range:

>18L

/Min




SIGH range: 0-5/100

System Standard

Hypoxic guard system:

N2O cut

-

off valve, O

2 concentration >25%




Saf

ety valve

: <12.5kPa




O2 Flush:

25-75

L/min




Flowmeter:

Electronic 0-20L/min,

Mechanical flowmeter for back-up




Volume of CO2 absorber: 2L




Vaporizer:

2 Selectetac maximum 2 mounts(Isoflurane/Enflurane/S

evoflurane/Halothane)




Monitoring:




VT,

MV

,

IE rat

i

o, Bpm, Aiway pressure

, Ppeak, FiO2, Lung compliance, Pplat,




Pmean,

Ai

r

way resistance,

PEE

P,

CO2

(Optional)

Alarm Limits

Audio/

Visual:




No tidal volume,

MV

,

Paw

,

FiO2




Air fail

ure, AC power failure, Battery low,

EtCO

2(Optional)

Pre

-s

etting functions

Language:

CHINESE

, ENGLISH etc.




Self-test: Automatic




PEEP




Type: Integrated, Electronic control




Range:

OFF

, 0-30cmH2O

Other features

ACGO




Auxiliary Common Gas Outlet




Yoke system (Pin-index)




Support 11L cylinder,

O

2/N2O




AGSS(Optional)




Anaesthetic Gas Scavenging Systems




Patient Monitor(Optional)

E-Anesthesia record(Optional)

Worktable(Optional)