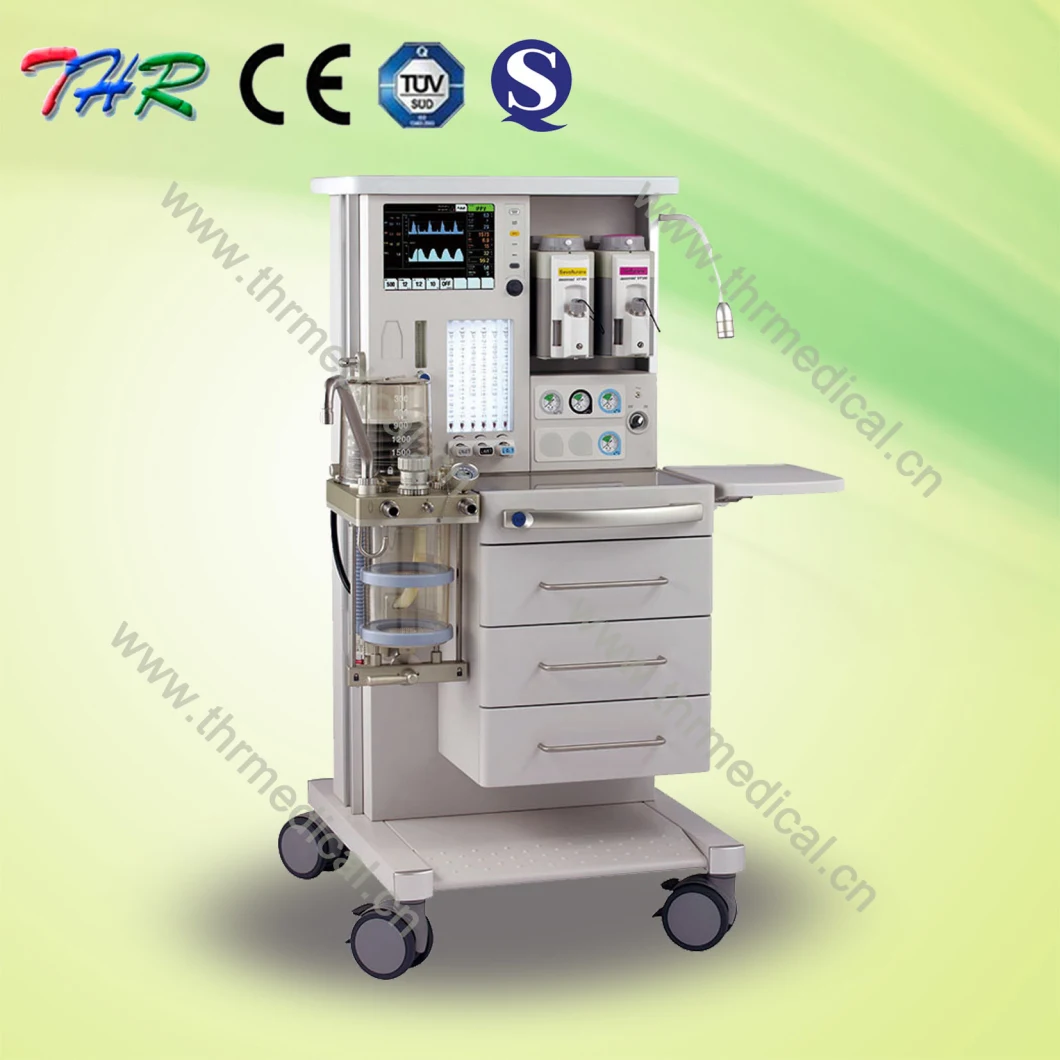 THR-MJ-8600A Medical Anesthesia Machine
With two VP300 Vaporizers
CE High Quality! !
Features:
1) PCV and SIMV+PS modes ensure flexibility in ventilation, machine doable for both pediatric and adult operation
2) Optional functions monitoring O2, CO2, and anesthetic gas
3) Flowmeter provides minimum 25% concentration of oxygen in O2 /N2O mixtur
4) Absorb system sterilized with high temperature and high pressure
5) Enhances usability with auxiliary oxygen, suction, auxiliary power source, monitor arm, infusion pump etc.
Vaporizer VP300
· Support two vaporizers
· Agent: Halothane, Enflurane, Isoflurane, Sevflurane.
· Installation Mode: Selectatec with interlock
· Filling Type: Pour Fill, Key Fill, Quik-Fil
Dimensions(W×H×D):
712mm ×1400mm ×780mm
Weight:
115kg (including trolley base and 2 vaporizers, without cylinder)
Operation Temperature:
+10~+40°C
Operation Humidity:
≤80% (noncondensing)
Storage Temperature:
-20~+55°C
Storage Humidity:
≤93%(noncondensing)
Mains:
100-240V AC, 50-60Hz
Battery:
24V 5Ah, minimum 120 min
Gas Supply :
Air,O2,N2O; 280kPa - 600kPa
Flowmeters:
O2 Range: 0-1L/min; 1-10L/min
N2O Range: 0-1L/min; 1-10L/min
Air Range: 0-1L/min; 1-10L/min
Auxiliary O2 Range: 0 -15 L/min
Gas System:
Flowmeter backlight
Low O2 signal
N2O-cut-off system
O2 flush: 25-75L/min
Operational Modes:
Closed, Semi-closed, Semi-open
Carbon Dioxide Absorbent Canister:
2 Loose fill(3L) or 2 prepacks
APL Range:
Spontaneous breathing (SP) -70 cmH2O
Material:
Autoclavable (except flow sensors, O2 fell cell and mechanical pressure meter)
Driven Modes:
Pneumatically driven and electronically control
Patient Types:
Adult & children
Ventilation Modes:
IPPV, PCV, SIMV, PS, and Manual
Setting Modes:
Touch key & navigator wheel knob
Tidal Volume:
20-1500ml
Ventilation Frequency:
4-100bmp
I:E Ratio:
4:1-1:8
Pressure (inspired) Range:
5-70cmH2O
Pressure (support) Range:
3- 50cmH2O
Ppeep:
off,3-30 cmH2O
Tslope:
0-2s
Inspiratory Plateau:
off, 5%-60%Ti,
Trigger Sensitivity:
1-15L/min
peak gas flow
75L/min
Compensation
Compliance compensation, fresh gas compensation
Ventilator Monitoring
Display:
10.4"TFT color screen
Pressure:
Paw, Peak, Pplat, Pmean, PEEP
Volumes:
MV, Vt
Gas:
O2 Concentration, CO2 Concentration, Anesthesia Agent Concentration
Graph Display:
P-T, F-T&P-V,F-V loops(can be saved), Wave of CO2
Alarm
Pressure:
Paw high/low limit
Volumes:
MV high/low limit,
Gas:
FiO2 high/low limit
Power failure
Apnea Alarm:
60 seconds
Alarm Silence:
110 seconds